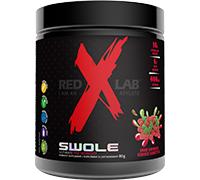 RED X LAB SWOLE 
The Strongest Pre-Workout
+ Formulated with Citrulline Malate for reduced fatigue
+ Includes Beta-Alanine for increased endurance
+ High levels of Caffeine for extreme focus
Swole is the strongest pre-workout available. An ultra-efficient formula that combines increased amounts of Citrulline and a high-concentration of Beta-Alanine to maximize endurance. To boost absorption, Swole's formula is fortified with a potent Black Pepper Extract (95% Piperine) and Vitamin B12. Swole is without a doubt the STRONGEST PRE-WORKOUT.
Reduce fatigue and improve endurance with citrulline!
Citrulline is one of the three main amino acids of the urea cycle that improves the ammonia recycling process. When taken as a supplement, it increases endurance for both aerobic and anaerobic extended workouts.1

More endurance with Beta-Alanine!
With a high concentration of Beta-Alanine, Swole helps you get the most reps out of each and every workout! Beta-Alanine elevates intra-muscular carnosine levels, thus limiting muscle tissue acidity and reducing fatigue.2

Nitric Oxide Boosting Agmatine
Nitric oxide is important to several different biological systems including vasodilation, or widening of the blood vessels which in turn helps to increase the delivery of nutrients and oxygen to working muscles, thereby enhancing exercise performance.

Nitrosigine® synergistic effects
Swole's formula is also powered by Nitrosigine®, which is proven to boost nitric oxide production. Nitrosigine® is a scientifically substantiated ingredient to take your workout to the next level and enhance performance by promoting blood flow and by increasing focus and energy. Lasting up to 6 hours, Nitrosigine® benefits will last from activity through recovery, so that you achieve your fitness goals.3,4

Best absorption with black pepper extract!
To maximize absorption, Swole has been fortified with Vitamin B12 and a high quality Black Pepper Extract containing 95% of Piperine.
How to use Swole: Mix 1/2 scoop in 12 oz of water. Drink prior to your workout.