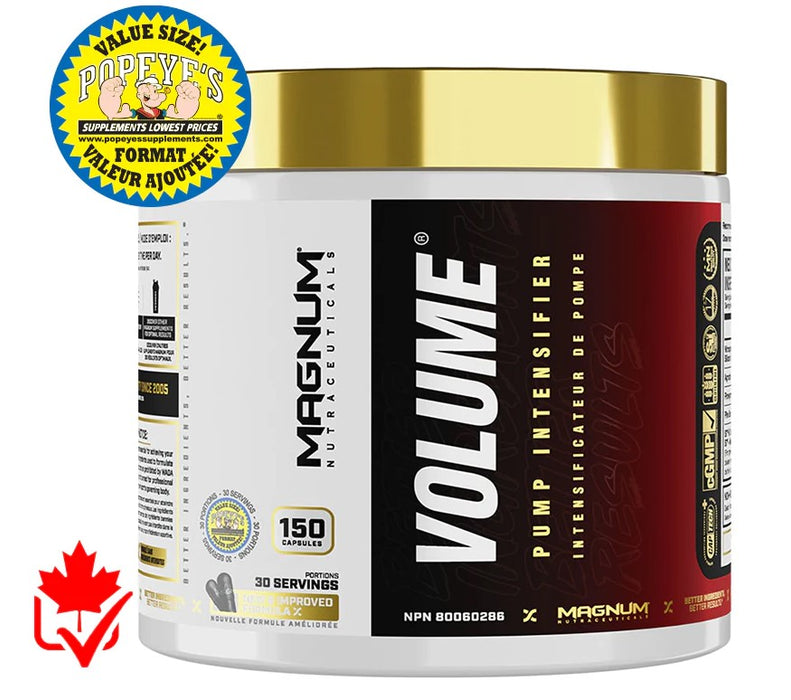 Magnum Nutraceuticals Volume, 150 Capsules Bonus Size
Magnum Nutraceuticals Volume, 150 Capsules Bonus Size
PUMP INTENSIFIER: Magnum Volume is a pre-workout supplement designed to transport increased blood flow, glucose, and oxygen to your muscles, resulting in a larger, more pumped appearance.

NITRIC OXIDE BOOSTER: Formulated to maximize nitric oxide (NO) production and reduce your body's ability to diminish it once it has been produced, increasing blood flow and muscle pump by extension.

NUTRIENT PARTITIONING: Volume has a clinical dose of Agmatine Sulphate that maximizes nutrient partitioning, meaning it shuttles more calories towards muscle tissue and less to fat storage.

POWERFUL INGREDIENTS: The advanced nutrients in this volumizer formula are HydroMax, glycerol powder, l-arginine pyroglutamate, agmatine sulfate, french pine bark extract, l-norvaline, and S7.

USE WITH WEIGHT MANAGEMENT PLAN: To start achieving exercise goals, we recommend that you use this supplement in conjunction with sufficient strength training and weightlifting.