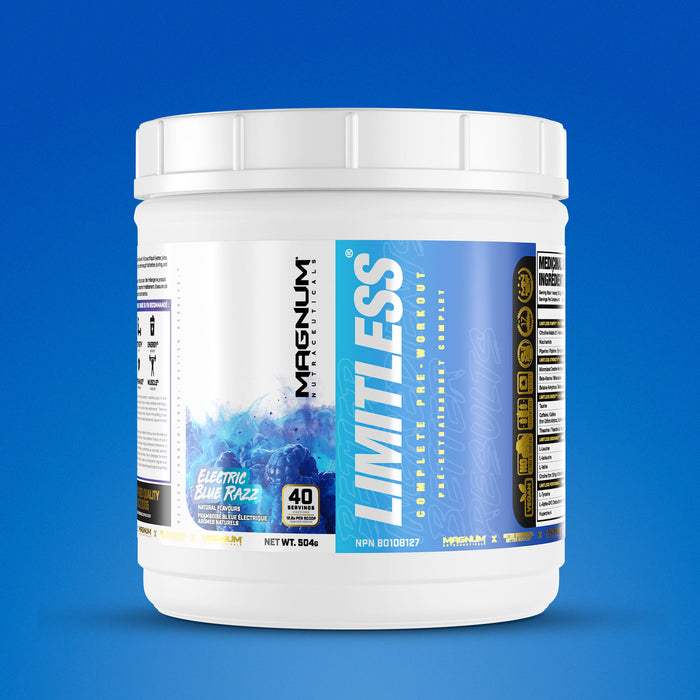 This is Training Without Compromise. This is Magnum Limitless!

Magnum Limitless is a fully-loaded, all-in-one pre-workout formula designed to deliver
everything you need to push through your workouts so you can achieve results like never
before.
Complete with a brand new flavouring system, Limitless provides over 20 grams of scientifically
proven, active ingredients in every two-scoop serving so you can achieve results like never
before:

● 10.2g of Limitless Strength: Creatine, Beta-Alanine, Betaine
● 6.0g of Limitless Pumps: Citrulline, Niacinamide, BioPerine
● 2.2g of Limitless Endurance: L-Leucine, L-Isoleucine, L-Valine, Choline
● 1.3g of Limitless Energy: Taurine, Caffeine Anhydrous, Infinergy, TeaCrine
● 1.2g of Limitless Performance: L-Tyrosine, L-Alpha-GPC, Huperzine A
Designed with your goals in mind, Limitless is perfect for anyone who wants to:
● Increase power, pumps, and performance
● Ramp up energy, focus, and intensity
● Build strength and lean muscle
● Improve endurance & delay fatigue

Redefine Flavour!

With Magnum's new NextGen Flavor Technology, Limitless comes in smooth and stimulating
signature flavours with no added sugars, colours, or preservatives. The Limitless formula is
vegan, gluten-free, dye-free, peanut-free, and backed by Magnum's unmatched quality for
guaranteed results.

FAQ

Will I feel the jitters or that post-workout caffeine crash?
No! Formulated with a blend of caffeine anhydrous and Infinergy di-caffeine malate, Magnum
Limitless ensures smooth and sustained energy that's also easy on digestion.
This full serving of crash-free caffeine is enhanced with the branded "feel good energy"
ingredient, TeaCrine, which is clinically proven to elevate energy, motivation, mood, and focus.
Limitless will help sharpen your focus, mental clarity, and cognitive performance with added
nootropics.

Why is there creatine in Magnum Limitless?

Creatine is one of the most extensively researched and effective supplements available. By
including a full dose of Micronized Creatine Monohydrate in every serving, Magnum Limitless
further supports your performance in the gym by enhancing strength, power, and lean muscle
creation.
Limitless contains full clinical doses of the most effective muscle-building ingredients available.
This includes Micronized Creatine Monohydrate, Beta-Alanine, and Betaine Anhydrous to help
you perform at your best and realize those muscle gains faster than ever before.