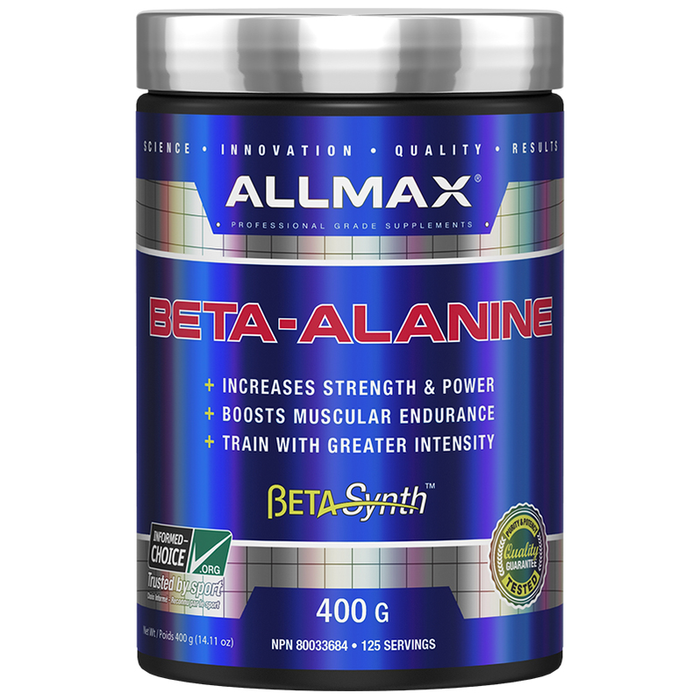 Want to train harder, run longer, lift heavier and kick harder? Who doesn't? With BETA-ALANINE you can finally achieve that workout intensity you've only wished you were able to accomplish.
Increase Strength
Boost Muscular Endurance
Train with Greater Intensity
Boost Intra-Muscular Carnosine
Backed by research, BETA-ALANINE is the one essential supplement you need to get your hands on. As an anabolic fuel, BETA-ALANINE provides the stimulus to increase anaerobic and aerobic endurance and delays in muscular fatigue, allowing you to push through every workout by providing the fuel to accelerate maximal workout power.
BETA-ALANINE can improve muscular strength and endurance to provide a more powerful training session. With BETA-ALANINE you can pump out every rep to the max and push through those plateaus. It's the difference between blasting through your one-rep max and throwing the weights down in disgust. Experience the sensation of achieving your goals and pushing through them. It's within your reach with BETA-ALANINE.
ALLMAX BETA-ALANINE is available in 100 g and 400 g sizes.
Supplement Facts

Beta-Alanine 100 g

Serving Size:
(1 teaspoon) 3.2 g
Servings Per Container:
31
Amount Per Serving
 
Beta-Alanine (as BetaSynth)
 
3.2 g

Suggested Use: Take half a tsp (1.6g) to 1 tsp (3.2g) 2 to 4 times daily dissolved in juice, water or your favorite supplement. Do not add to products already containing Beta-Alanine. Beta-Alanine can create excess sensory effects at the skin level in some users. Initiate use with half of a single serving to assess your tolerance to ALLMAX BetaSynth™ Beta-Alanine. As you become accustomed to the feeling, increase your dosage to 2 servings (6.4 g). Do not exceed 4 servings in a 24 hour period.

Percent daily values are based on a 2000 calorie diet

Daily Value not established 



Suggested Use
Research suggests that the effects of BETA-ALANINE are best experienced when it is spread out over four daily dosages. Dissolve 1.6 g ( ½ teaspoon) of BETA-ALANINE in juice or water at each dosage. However, some have found taking the full dosage 6.4 g (2 teaspoons) immediately before a workout resulted in the best gains.