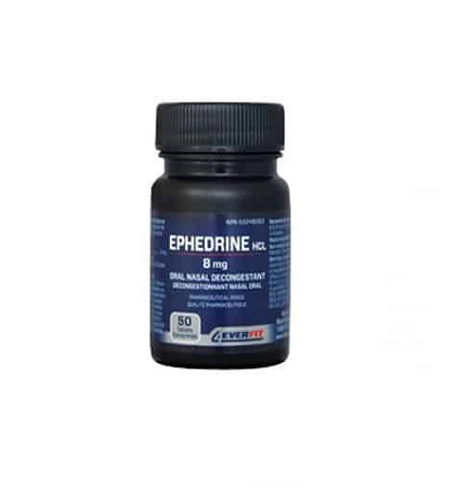 4 Ever Fit Ephedrine 8mg 50 tab
*We do NOT ship ephedrine to the US or Internationally. Within Canada Only.
 Ephedrine is a powerful bronchodilator and decongestant which combines the active ingredients Ephedrine Hydrochloride (8 mg).
 Ephedrine HCL is a sympathomimetic drug which dilates the bronchioles and has pronounced stimulating effects on the central nervous system - a more prolonged though less potent action than adrenaline. Oral nasal decongestant for relief of cold and hay fever symptoms.
 Ephedrine HCL is a powerful compound that has many beneficial effects. Ephedrine has powerful stimulant properties due largely to the release of adrenaline it stimulates.
Ephedrine also has power metabolism boosting effects, it boosts resting metabolism and dramatically reduce appetite.
***By purchasing this product you agree to use as directed for personal use only and to not use as a precursor for illegal products or wholesaled/resold to other parties. These products are for personal use only and are purchased at your own risk.